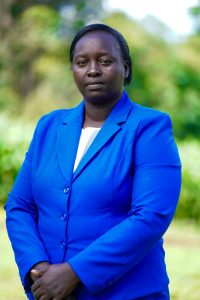 Pr. Gladys Tarus Kosgei
Mobile Contact: +254728997099
Email Contact : laujes@westriftadventist.org
MISSION STATEMENT
The West Rift valley Field Department of Education prepares an individual to develop a life of faith in God and blend biblical truth and academic achievement in order to accomplish selfless service in accordance with Seventh-Day Adventist mission to the world of Mathew 28:18-20.
VISION STATEMENT
To have committed Adventist teachers that can nurture the students to develop a life of faith in God in order to use their knowledge, skills and understanding to serve God and humanity.
OBJECTIVES
1.To assist students in development in Christian like character.
2.Provide educational climate conducive to Christ like character development.
3.To teach the believes ideals, and customs of Seventh- Day Adventist church and to lead the students to ascertain and accept in practice and sentiment the mind for the will of God as revealed in his word.
4.To help students in development of a relationship with Jesus and to provide opportunity for each to accept Christ as their personal savior and provider of academic excellence.
OTHER INFORMATION
Education department in west rift valley field ensures that our schools becomes centre of evangelism for students to know Christ and to sow seeds which will bear harvest through the guidance of the holy spirit so that the learner can grow wholistically and fulfill the commission of preaching the gospel to all the world in their generation accomplishing the great commission in Matthew 28 : Jesus' followers are to go and make disciples of all nations.
We have only one church maintained high school that is Segero Baraton as our centre of evangelism and five church sponsored schools. We have Mwein Adventist school, Kurgung girls Adventist, Kabote Adventist school, Kimolwet Adventist school and Samitui Adventist school.our church maintained primary school is one , that is Kaigat SDA primary school and others coming up. Baraton University is our only highest institution of learning in our territory.
West Rift Valley field education department ensures that teacher in Adventist primary and secondary schools empress Adventist philosophy of education and the principles of faith-and-learning in their institution.